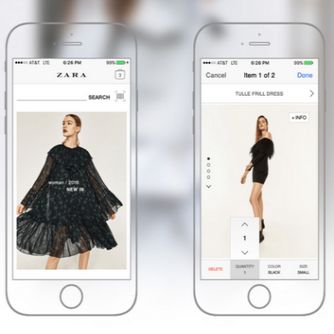 A Usability Case Study
Zara is one of my favorite clothing brands, but I run into problems every time I use the app. Although I am not affiliated with Zara, I wanted to figure out if other users were having similar problems. I decided to conduct usability tests, which led me to discover multiple pain points and redesign part of the experience.
...
Usability Testing

With a better understanding of the user, I went to a mall with a Zara store and selected mall-goers to perform guerilla usability testing. I sampled people to test and verified that they were at least frequent online shoppers prior to beginning the testing. I ended up testing seven users.

Each user was asked to imagine he or she was in a scenario and to perform a series of tasks such as:
It's been cold lately and you're looking for a winter coat. What do you do?
You see a coat you might like. Can you walk me through how you would decide whether this is a coat for you?
You added the coat to your cart, but you realize the size is wrong. How do you fix that?

...


Continue reading